Whether you want to know the size of your ring finger or simply an existing ring, we have made things simple. Here is your fail-safe guide to finding your ring size from the comfort of your home.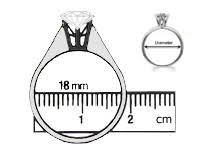 When buying a ring as a gift, the best way (but not always the easiest) is to borrow an existing ring from the correct finger and use our downloadable Ring Size Guide to determine its size.
Prepping for Measurement
Before you begin taking your measurements, pick the finger on which you want to wear your ring. The fingers on your dominant hand tend to be larger than those on your non-dominant hand, so keep that in mind when measuring for your ring size.
Ensure that your finger is at its normal size before taking a measurement. Cold weather can cause your fingers to shrink a bit, while heat or water retention caused by food, medications, or illness can cause finger swelling.
How Do I Measure My Finger for a Ring?
Our ring size guide includes two ring sizing methods: You can use string or a strip of paper to measure your finger, or you can measure using a ring that you already own.
How do I use String as a Ring Sizer?
1. Take a piece of string, ribbon, thread, or a thin strip of paper and wrap it around your finger, close to the knuckle.
2. With a pen, carefully mark the spot where the string overlaps with its end and either hold it up to a ruler that has millimeter measurements, or to the graphic below.
3. Use the chart to determine your ring size.
HOW-TO MEASURE YOUR RING-SIZE?
PLEASE NOTE:
• Before printing, make sure that the page scaling is set to 'None' in your print options.
• Please ensure you are printing on standard A4 sized paper (210 x 297mm).
• Your ring sizer should measure 160mm in length.
OPTION 1: MEASURE AN EXISTING RING
1. Select an existing ring that fits your desired finger.
2. Place the ring over the circles below until the inside circumference of the ring matches a specific circle.
3. If your ring falls in between two sizes, consider the width of the band. A wider band may require a slightly larger ring size.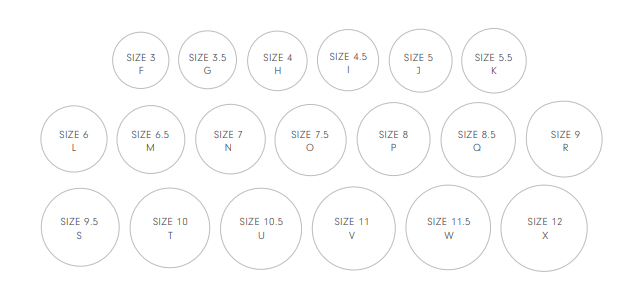 OPTION 2: USE RING SIZER TO MEASURE FINGER
1. Print and carefully cut out the below ring sizer.
2. Place the end of the ring sizer through the indicated slit to form a loop.
3. Wrap the loop around your finger with the letters side visible. The letter that appears closest to the slit is your ring size.

TIPS & TRICKS
Do
• Measure your ring size at the end of the day when fingers are at their largest.
• Consider the width of the band, a particularly thick band will feel tighter than a thin band so you may want to buy a full size larger than your normal ring size.
• Ensure that your ring sizer fits comfortably, snug enough so that so that it will not fall off, but loose enough to slide over your knuckle.
Do Not
• Do not measure your hands when they are cold, they may have shrunk up to half a size.
• Alcohol and salt can make your fingers swell so refrain from measuring your ring size after any champagne and canapé filled evenings.
Our Personal Shopping Team have buckets of experience when it comes to ring sizing. They can talk you through all your options, including re-sizing rings to ensure the most perfect fit possible. Simply e-mail [insert e-mail id] or call [insert number] for advice.
PUT YOUR NEW FOUND KNOWLEDGE TO GOOD USE